Bar carts have had a major style revolution as of late and for good reason. They come in all different styles yet, no matter what the style, they all embody any home decorator's ideal of form AND function. And of course, they hold your liquor!
Whether you own a bar cart, or are thinking of adding one to your home, here are 12 unique way to style a bar cart (that don't necessarily involve alcohol).
12 Unique Ways to Style a Bar Cart
1. Add organic elements
Your bar cart doesn't have to be super delicate and pretty. Use organic elements like potted plants and fresh fruits in a similar color palette, and don't be afraid to throw in some unexpected items like a large clock or gold statue.

via HGTV
2. Top it off with sweets
Bar carts are always party-ready. When throwing a celebration, reserve the top shelf for serving sweets and champagne for that special event, and line your impressive collection of reds on the bottom shelf. Place a colorful napkin or dish cloth under some plates to give the cart some extra pizzazz!
via Waiting on Martha

3. Choose only one or two liquors
Who says you have to go the traditional route? If you're not into collecting wine bottles or scotch, choose a couple of your favorite liquors and surround them with colorful mixers and bowls (with fruit if you like) around your bar cart. This makes the cart more personal to you and more fun for your guests!
via Oliver Bonas
4. Multifunction to the max
Take multifunctional to a whole new level by creating different segments on your bar cart and nestling it in an interesting corner in your home. This cart serves as a side table, music station, drink station, and vanity, without losing it's bar cart charm.
via The Everygirl
5. Garden Cart 
It doesn't always have to be about the liquor. If you're a nature lover, try using a bar cart as a functional display for your favorite potted plants of all sizes. The great part is, you can change it around throughout the seasons, and move the cart to different areas of the home depending on your plants' needs.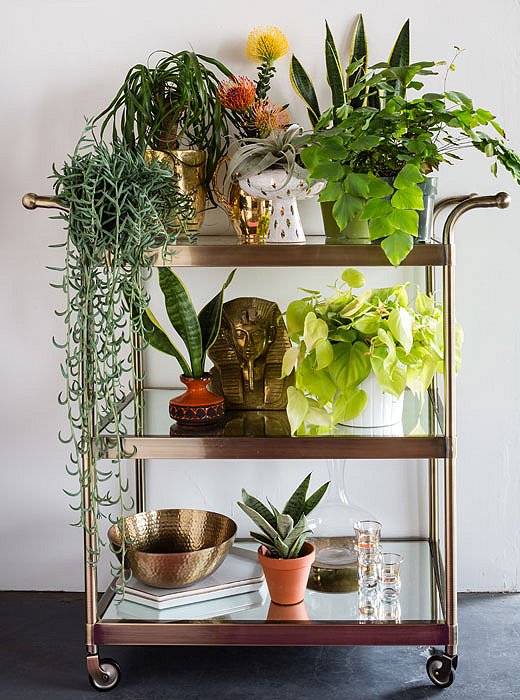 via One Kings Lane
6. Outdoor summer beverage station 
In need of another idea for a non-alcoholic bar cart setup? Take notes from this cute front porch beverage station for sweet tea and seltzer. Add some cute straws, a few lemons and limes, an ice bucket and a simple vase and you're all set for summertime.
via Home Depot
7. Luxurious accents
A great trick for making your bar cart look extra fancy and put together, get matching stemware and bar accessories, like the gold-trimmed pieces shown here, to create a unified look that also looks more luxurious.
via The Everygirl
8. Elevated holiday style
Bar carts are great for holiday decorating, but you don't have to go the obvious (or tacky) route. This cart has all the makings of holiday spirit with a couple spring of holly, a wrapped box present, candles, and a fur throw along the bottom.
via Hark and Hunt
9. Fill the space 
Different bar carts call for different arrangements. For a two-tier cart, fill the negative space on the middle shelf with hanging glasses and wine bottle holders, and add a colorful floral bouquet on top to give it some visual interest. Utility and style all in one.

via Redbook Mag

10. Less is more
Many bar cart styling examples have a lot of color and "stuff" going on. But if you're more into an ultra modern look, strive for symmetry and simplicity like in this minimalist arrangement.
via Kate Marker Interiors
11. Add reading material  
Coffee table books and magazines add that personal element to a living space while also serving as conversation pieces, so placing these on your bar cart is a great styling tip. Remember to place them lying down as you see here, rather than stacked side by side as you would on a shelf (unless you don't plan on moving your bar cart anywhere).
via SF Girl by Bay
12. Stack some plates 
A bar cart should fit into your home's style and display things that are meaningful to you. So bring out your beautiful china from out of storage and stack them up proudly on display with the rest of your bar setup.
via Traditional Home
Find the Perfect Bar Cart: